Roberto Morabito
Roberto Morabito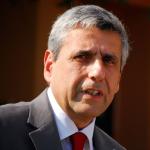 Department Director
ENEA Centro Ricerche Casaccia
00123
Santa Maria di Galeria
RM
Roberto Morabito is PhD in Chemistry and Director of the Department for Sustainability of ENEA.
Over the years he has been a partner and / or coordinator of dozens of research projects, national and international, in the field of Chemistry and Environmental Technologies, contracting professor in various universities, member of national and international expert panels and referee panel of scientific journals. Author or co-author of over 150 scientific publications and 140 communications at conferences.
Since 2012 he has been editor of the book Sustainability of production systems and of the ENEA Journal special issues "Towards the green economy" and "Development of Eco-innovation in Italy", and, together with Edo Ronchi, of the Green Economy Reports 2012, 2013 and 2014. He was a member of the National Council of the Green Economy as Coordinator of Working Groups on Eco-innovation and Circular Economy and he is President of the Italian Platform of "stakeholders" of the Circular Economy (ICESP).
---
Bibliografia